JAMES GREENWOOD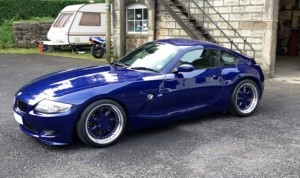 James's Z4M sitting pretty
Click to Enlarge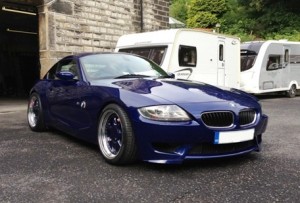 Click to Enlarge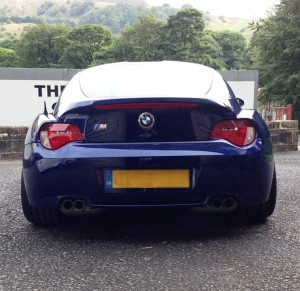 Click to Enlarge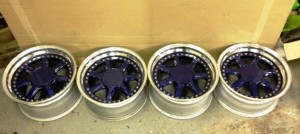 'Ronal SX' 3 piece splits
Click to Enlarge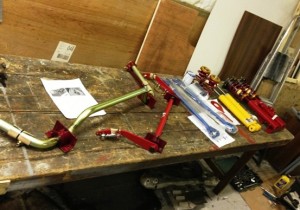 New suspension ready for instalation
Click to Enlarge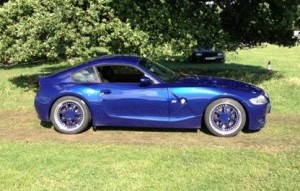 Click to Enlarge
James's impeccable Z4M with improved handling.

I've had a few previous cars that I've 'tinkered' with more, but it seems very expensive to get more power out of the S54 and to be honest, I always though the handling was the biggest flaw of the Z4M.
I left the engine as stock and changed the suspension set to improve the ride. I think the only other things changed were the wheels/tyres and a CDV delete.
In the end it was decided to go for the following alignment setting...
Front; 2.5 degrees negative, 20mins toe out.
Rear; 2 degrees negative, 20mins toe in.
and using the following...
- Ground Control coilover kit
- Rogue engineering RTAB rear bush set BLUE
- Front Adjustable drop links
- Rear adjustable drop links
- Anti roll bars,
- SUPERFLOEX FCAB BUSHES
Current wheels are 'Ronal SX' 3 piece splits. The same design was also sold as a 'Gotti SX' or an 'ACT SX' but I think all were made and stamped by Ronal... See a lot in the US but not many over here.
They came to me pretty cheap, but I'm not a huge fan of the centre design, hence the colour code and 'flat' centre caps.
They're a nice wheel, but just a little heavy... I think they were designed for the 5/7 series originally, they're 1996 vintage!
- Front is a 9x18 et13 (running a 235/40/18 Pirelli P Zero)
- Rear is a 10x18 et 30, dropped to an et22 with the 8mm spacer that came with the wheels - nice bit of kit that 'snaps' into the wheel with a spring clip (running a 265/35/18 Pirelli P Zero)
Thanks again for all your help with the various parts, car is much more 'entertaining' to drive now, just a shame we're heading into the ice and snow of winter this month!
© 2021 Site Maintenance by C2G Ltd