GARY'S E36 M3 CABRIOLET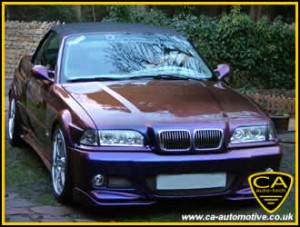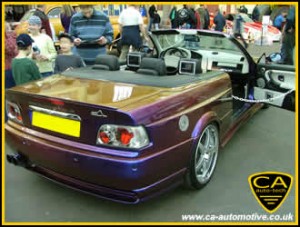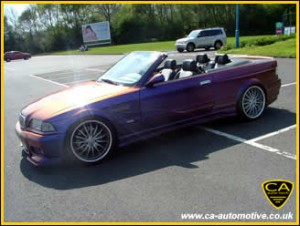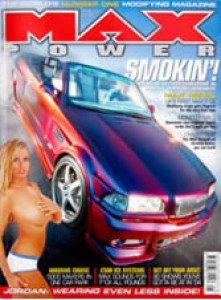 2002
GARY'S EQUISS - BODIED E36 CAB'
COVER CAR IN PERFORMANCE BMW DECEMBER 2003
This is one of the most visually striking cars in our "stable". Designed and built in the main by Adam from Dantecdesign with further modifications by Crest Automotive Tuning LTD
This car is now owned by Gary (brother of Steve who is the owner of our blue E36 328 Zemax-wide bodied project car also featured on our gallery section) The flip paintwork on this car really does have to be seen to be believed!
ENGINE BAY MODS:
3.2 litre straight-six 24V double Vanos.
C.A. AUTO-TECH Strut Brace.
C.A. AUTO-TECH Cold Air Induction System.
C.A. AUTO-TECH Power Pulley.
C.A. AUTO-TECH 6 chip.
Supersprint Kat-back Exhaust.
CHASSIS:
9 X 19" Breyton Imagine Wheels.
235/35 Front & 265/30 R19 Rear Uniroyal Raid Sport Tyres.
C.A. AUTO-TECH FK Coilovers.
EXTERIOR:
Esquiss' Auto Rafale Body Kit comprising: Bumpers, Arch Extensions, Sideskirts, E46 M3-Style Boot Spoiler, Front Splitters, E46-Style Bonnet, Badges removed, Rubbing Strips painted, Chrome Door Handles, Kidney Grilles & Rear Plate Strip.
C.A. AUTO-TECH Cool "Optik" Rear Lights.
Hella Angel Eye Headlights.
Projector-Style Indicators.
E46 Side Repeaters.
Genuine E46 M3 Side Grilles.
Painted Rage Extreme Illusion Flip Paint.
INTERIOR:
C.A. AUTO-TECH Carbon Fibre & Chrome Trims.
C.A. AUTO-TECH Electro-Luminescent Reverse Glow Dials.
Re-trimmed in Black Nappa Leather & Silver/Grey Alcantara, including Seats, Doorcards, Dash, Visors, Steering Wheel, A Pillars, Headrests & Boot.
A C Schnitzer Pedals & Footrest.
Various interior polished/chrome trim items.
C.A. AUTO-TECH Carbon Fibre Interior Panels.
ICE:
Pioneer TV/CD Head Unit.
TV Tuner.
PlayStation 2 with infra red PS2 Controllers & Headphones.
5.5" Toad Screens in Headrests.
Exposed Audiobahn Crossovers in Headrests & Doorcards.
Audiobahn Front Components 6.5" mid-bass in Kick Panels.
4" Mid-Range & 1" Tweeters in Doors.
Mids & Tweeters in Rear Quarters.
Two Boxed 8" Audiobahn Sub-Woofers.
Two Racked Audiobahn Amps.
Power Cap.
Bass Controller in Ashtray.
All imagery and text copyright © Crest Automotive Tuning Technologies. The information on this web site is an overview of business and cannot be used as part of a contract. All rights reserved. C.A. Automotive Technologies do not endorse the use of jamming products within the UK. For further details please read our disclaimer.
Site designed and hosted by UK Live
© 2021 Site Maintenance by C2G Ltd