Pawel's 655 BHP Charged E46 M3, POLAND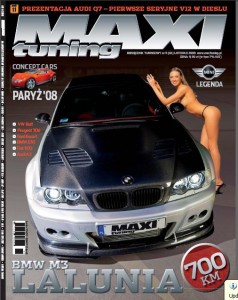 Click to Enlarge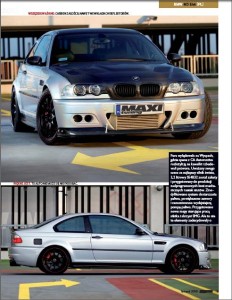 Click to Enlarge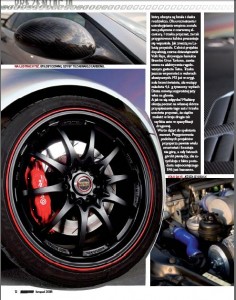 Click to Enlarge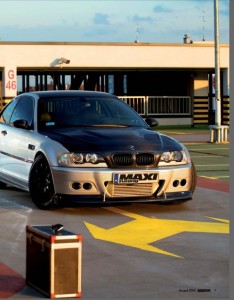 Click to Enlarge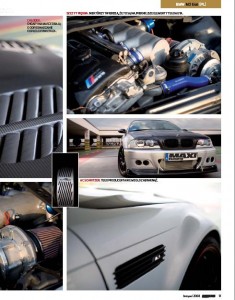 Click to Enlarge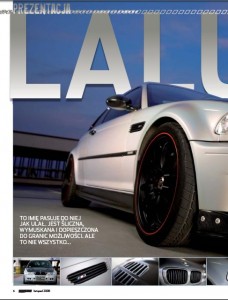 Click to Enlarge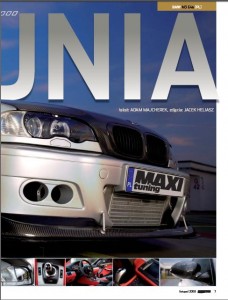 Click to Enlarge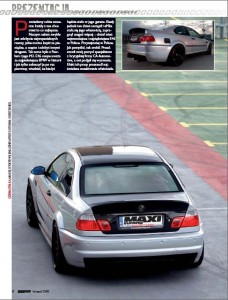 Click to Enlarge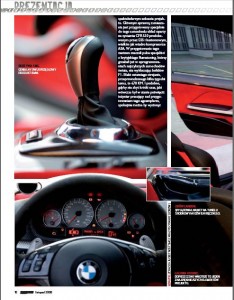 Click to Enlarge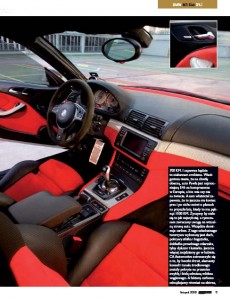 Click to Enlarge
Crest Automotive TuningAuto 's latest Uber Project Complete
650 bhp + E46 M3 in Poland
This is the most modified E46 M3 Crest Automotive Tuninghave ever been involved in, both engine, chassis and styling wise. It is the cover car of this month's Maxituner magazine, Europe's biggest car modding magazine, and has been confirmed to also be featured in UK 's Performance BMW magazine.
Crest Automotive Tuningspecified and supplied all the parts, built the engine and did the mapping.
The customer lives in Poland, and hearing about Crest Automotive Tuningasked us for advice, with a simple brief: to help him build the quickest and best looking E46 M3 in Europe .It was a tough challenge but hopefully we got close...We feel the M3 engine's natural "safe" limit on standard internals is 500 – 550 bhp, the customer made it clear he wanted more, either now or in the future, so we knew we had to rebuild the engine for maximum internal strength . We also wanted to use an ASA blower due to their excellent design and very strong midrange flow characteristics, thing is the biggest blower they had commercially available "maxed out" at about 520 bhp; so thanks to our mapping engineer's close association with ASA, we had a custom one – off larger blower made ( which will be commercially available soon). Consequently the car now makes over 655 bhp. The engine rebuild included, among other things, the following :
- Stage 3 ported head, with Ti valves and retainers, 5 - angle seats, uprated valve springs
- Forged CP Pistons,
- Arrow up-rated con rods,
- VAC up-rated main and rod bearing sets,
- Custom made multi layered steal head gasket,
- VAC high volume oil pump
- Crest Automotive Tuningcustom camshaft set
With this level of high performance engine parts going in and on of our custom live Crest Automotive Tuningmaps for the gearbox and engine we knew this engine was going to produce a quick car.
We then turned our attention to the styling of the car. We started on the inside of the car (a very important place as the customer would be spending a lot of his time there :-) ) so it was treated to a whole host of carbon fibre exterior goodies including :
- 4x carbon door panels
- 2pce steering wheel set
- SMG gear lever surround
- lower kick panels
- inner mirror caps
- handbrake handle
- A,B and C pillars
- Full dash re-trim ... the list is almost endless everything we could do the customer wanted done !
Our customer didn't stop there as you can guess by now, once the inside was done he turned his attention to the outside , once again asking for our advice. After a lot of decision making almost everything was changed to give it a more sportier and aggressive appearance including:
- Carbon mirrors,
- Double sided carbon csl boot lid,
- Carbon door handles,
- Carbon headlamp trims,
- Carbon M3 side grills,
- Carbon kidney grilles,
- Carbon rear window spoiler,
- Carbon rear diffuser,
- Carbon body strips,
- Carbon door sill trims,
- Vorsteiner Carbon GTR bonnet ...... and then he told us he wanted to fit a carbon roof panel to go with the carbon bonnet.
After all these items were fitted to the customer's car it looked amazing but he wasn't finished there. He changed and uprated almost everything else on the car including the exhaust system which was replaced with Supersprint de-cat pipes, racing manifolds also a Dixis spirit Ti rear box.
The chassis was then attended to with the installation and upgrade of:
- Rouge engineering engine mounts and rear shock mounts,
- Rogue transmission mounts,
- Ground control adjustable camber mounts
- Powerflex bushes all round
- Tein euro coilover kit was fitted with a Tein E.D.F.C Unit
- Strong strut front brace
- Wiechers rear brace
- Gearbox and rear diff oil cooler kit
There were some hiccups and delays along the way on a project this big, but at the end we were all quite satisfied with the results. This vehicle has far more carbon than any other we have done before and with final engine power being over 655 bhp and a quarter mile time of just 11.55sec (on the street using road tyres) on early tests, we cant wait to see what this car can do when its been fully run-in and prepared.
Our sincere thanks to our customer Pawel for this opportunity and all his patience with us during the project. We would also like to thank :
- Chris at VAC
- ESS Tuning
- Mr X for all his help and insight
- All our other suppliers
TECH SPEC AS FOLLOWS:
ENGINE + DRIVETRAIN:
- CP Pistons
- Uprated con rods
- Uprated main bearing set
- Uprated rod bearing set
- Multi layered steel head gasket
- Uprated head stud kit
- High volume oil pump (inc new oem pump core)
- Uprated main stud kit
- Stage 3 head
- Custom camshaft set for s/c engine
- Schrick rocker arms
- Vac engine oil cooler kit
- Blue radiator hose kit
- ESS CFR 550 supercharger kit
- Rotrex c38 71 trim compressor with 70mm pulley
- Pacet twin pro fan electric radiator fans
- Uprated plazma coils
- Crest Automotive Tuninguprated water radiator
- DEI exhaust bandage and ceramic paint kit
- 100% carbon engine cover
- Carbon intake 'y' piece
- Supersprint decat pipe
- Supersprint race manifolds
- Dixis spirit Ti rear exhaust box
- Crest Automotive Tuningcustom live map for engine and SMG ECU for stage 4 power
- Spec stage 3+ clutch kit and 850 slave cylinder
SUSPENSION + CHASSIS:
- Ground control adjustable front anti roll bar links
- Rouge engineering lightweight adjustable rear camber arms
- Ground control FLC arm bushes, street version
- Tein euro coilovers
- Tein EDFC unit
- Strong strut front chassis brace
- Rouge engineering rear shock mounts
- Rouge engineering transmission mounts
- Powerflex front and rear bush kits
- Ground control adjustable top camber mounts
- Rouge engineering engine mounts
INTERIOR PARTS:
- Crest Automotive Tuning4X Carbon door panels
- Crest Automotive TuningCarbon 2 piece steering wheel set
- Crest Automotive TuningCarbon SMG gear level surround
- Crest Automotive TuningCarbon lower kick panels
- Crest Automotive TuningCarbon inner mirror covers
- Crest Automotive TuningCarbon hand brake handle
- Crest Automotive TuningCarbon A,B,C interior pillar set
- Crest Automotive TuningXenon interior bulb kit
EXTERIOR PARTS:
- 100% Carbon M3 mirrors
- Vorsteiner double sided carbon csl boot lid
- Crest Automotive Tuningcarbon door handles
- Crest Automotive TuningCarbon headlight trims
- Crest Automotive TuningCarbon M3 side vents
- Crest Automotive TuningCarbon side skirts
- Vorsteiner carbon roof panel
- Crest Automotive TuningCarbon front kidney grills
- Crest Automotive TuningCarbon exterior body strips
- Crest Automotive TuningCarbon door sill trims
- Crest Automotive TuningCarbon rear window spoilers
- Crest Automotive TuningBlack projector indicators
- Crest Automotive TuningRear diff cooler kit
- Crest Automotive TuningCarbon rear DTM diffuser
- Vorsteiner GTR style Carbon bonnet
- Hamann style fog light covers
- Crest Automotive TuningCarbon bonnet and boot badges
ELECTRONICS:
- Innovate air fuel ratio gauge and LM1 sensor
- 1x single 1x double Crest Automotive TuningCarbon pillar gauge pod, for left hand drive
- Defi boost and oil pressure gauges with controller
- Umnitza angel eyes
- Race logic traction control system
- H.I.D. full beam upgrade
© 2021 Site Maintenance by C2G Ltd