DAMON'S E36 M3 EVO.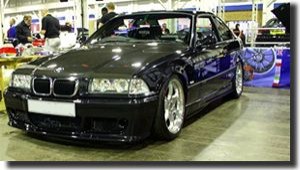 DAMON'S E36 M3 EVO.
One of his own personal cars, this is a 1999 SMG equipped car in Cosmos black; our aim with this one is to produce THE MOST POWERFUL Road going and usable Normally Aspirated E36 M3 in the UK, by selective engine tuning and lightening of chassis and components (like the saying goes .... "for speed add lightness"). We are aiming for 410bhp at the FLYWHEEL , BEFORE NOS.
Our developments will be continually tested and refined as Damon continues his hillclimb racing career in this car.
image shows Damon's car at our stand at Donnington BMW show.
355bhp and counting ..( as verified by Noble Enginnering dyno)
Existing and proposed mods are :
Schrick cam shafts
Carbon fibre body panels , roof and interior
Big bore kit (3.40 Litre )
CABUT bespoke camshafts and software
Remapping of the Vanos system
Eisenmann stainless tuned length exhaust
NOS
Lightweight suspension components
GruppeM induction
Modified fuel delivery
All imagery and text copyright © Crest Automotive Tuning Technologies. The information on this web site is an overview of business and cannot be used as part of a contract. All rights reserved. C.A. Automotive Technologies do not endorse the use of jamming products within the UK. For further details please read our disclaimer.
Site designed and hosted by UK Live
© 2020 Site Maintenance by C2G Ltd